Team Building Activities - Workshop Customers
Soft Skills Expert delivers True Colors workshops, Kolbe Workshops and Myers-Briggs workshops, conference call sessions, and one on one consulting to its customers. Below is a list of some of the companies we have worked with, and the solutions we have provided them.
"I have worked with Gary and his company, The Soft Skills Expert, for several years on many projects. I have found Gary to deliver on his commitments and his service to be well received by our client base. I would not hesitate to recommend The Soft Skills Experts to my best clients. You will pleased with the level of service they provide."
Wayne Goldstein - CEO - Global Mentoring Solutions
Sheridan Nurseries is a grower of nursery stock and operator of retail Garden Centres.

Solution - Two half-day True Colors workshops for two groups of about 100 people in size each.
First group was senior management and the second group was retail managers and supervisors. The focus of the workshop was to improve communication and teamwork.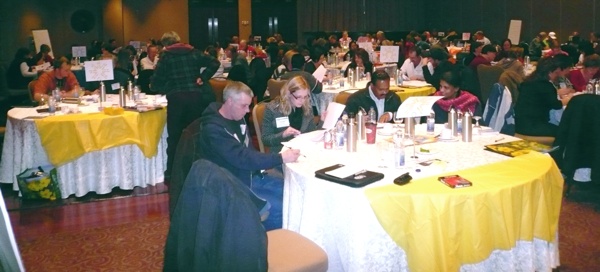 In January 2010, we held our annual manager and supervisor meetings at Paramount Conference Centre in Vaughan, Ontario. On each day, our attendees were treated to the True Colours exercise hosted by Gary Bernier. Gary taught our employees the four different colours, Gold, Green, Orange and Blue. Each colour helps identify our perspectives and personalities in ourselves and others. The exercise taught each of us what to expect and more importantly how to communicate with individuals of different colours. We realized that most of us have a dominant colour and are shaded by others in the spectrum. Learning how to appreciate the differences in each of us will lead to more success in our personal and business lives. Thanks for a great presentation Gary!!

The Operating Committee - Sheridan Nurseries Limited

Plainfield Community Homes is a non-profit organization that provides a range of services and supports to adults and children with developmental disabilities. Guided by our corporate Mission and Vision, we are committed to supporting people with disabilities through the promotion of their own individual empowerment and autonomy over their own lives.

Solution: Two half-day True Colors workshops - morning and afternoon

A comment that was reiterated by a number of participants was:
"This was a workshop that I can use to help me when working with a co-worker that I find challenging to work with."

"I found the speaker very interactive with our staff which made everyone present become more participative".
Joan E. Greenwood, CHRP
Director - Human Resources
Plainfield Community Homes
Antian Professional Services
Antian offers a full range of Event Management services by seasoned bilingual events personnel...

Their experience includes project management of conferences, special events and award galas, as well as providing the related support services to ensure efficient program delivery, such as conceptualization and program design, preparing budgets, the creation, distribution and collating of publications, complete logistics, VIP services etc.
Solution - True Colors Team Building Workshop:
Internet and Conference call that was a one hour
True Colours
team building session. This session was coordinated quickly to provide the participants insights into how they functioned and how their teammates functioned and why they have some of the challenges that they do. This was done as a precursor to their Iron Chief afternoon event. Antian appreciated being able to do everything online in a short time frame. They were able to take advantage of the Energy Evaluator Report and our new
True Colors
Team Report exclusive to the Soft Skills Expert.
Ontario Association of Community Care Access Centres
Community Care Access Centres are comprised of 14 local CCAC organizations across the province to manage local care. Funded and legislated by the Ontario Ministry of Health and Long-Term Care. Connectors to home care, long-term care destinations, and other services in your community.
Solution - True Colours Team Building Workshop:
Off-site staff day, we conducted the morning portion of the day for them. They discovered their
True Colors
and uncovered the colors on the team. We also added in some of the communication components (Levels of Authority, Conditions for Ownership) for this group as they were all working on a large software system deployment across a large number of offices this year.
EDS provides a broad portfolio of business and technology solutions to help its clients worldwide improve their business performance. Our core portfolio comprises information-technology, applications and business process services, as well as information-technology transformation services.
Solution - True Colors Conference Call:
Phone Conference for Managers - Introduction to
True Colors
promote better understanding of themselves and their staff.
Solution - Myers-Briggs Workshop:
Off-site Myers-Briggs Workshop to improve teamwork and understanding of one another.
Quality & Compliance Services Inc. (Q&C®) provides Good Manufacturing Practices (GMP and cGMP) consulting services to industries regulated by Health Canada and the U.S. FDA.
Solution - True Colors Team Building Workshop
Anthem is the fastest growing branding and design network. The only truly integrated strategic design and branding imaging group.
Solution - True Colours Team Building Workshop
Global leaders of on demand expert support.
Solution - Kolbe Workshops
Kolbe workshops to promote better teamwork, and integrated Kolbe in to the hiring process to reduce turnover. Delivered
True Colors
and 4-Levels of Authority for Management training to the senior management.
The Resnick Druckman Group
The Resnick Druckman Group LLC is a full service accounting and consulting firm that caters to a wide variety of clients, ranging from individuals to closely held corporations across several industry sectors.
Solution: Kolbe consulting, teleconference for the partners.
At University Health Network, the breadth of skills, proud histories and stellar reputations of Toronto General Hospital, Toronto Western Hospital and Princess Margaret Hospital come together to achieve a common purpose and vision. UHN is among the ranks of the world's leading providers of exemplary patient care and innovative research and teaching.
Solution: Kolbe workshop.
Harvey Brooker
The world's #1 Men's Weight Loss Class!
Solution: Kolbe consulting to improve hiring process.